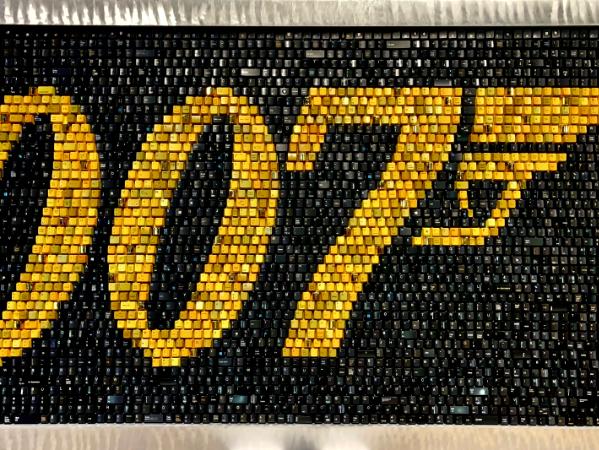 James Bond Logo (Edition 3) 2021 (SOLD)
Contact for price
34 x 62 x 2 Welded Polished Aluminum Frame
Mosaic created with 3,000 recycled computer keys from old keyboards.
A word search is embedded throughout the artwork spelled out with the computer keys.
This 3rd Edition Logo is currently featured and available at The Park Avenue Contemporary Gallery located in beautiful downtown Winter Park, Florida.
Well, if I'm gonna be forced to watch television, may I smoke
There's always something formal about the point of a gun
Time to face gravity
I've always enjoyed studying a new tongue
I don't think the dead care about vengeance.
Don't think. Just let it happen
Which bullet has my name on it? The first or the last
Someone seems to have stuck a knife in my wallet
Bond Girls
Honey Ryder
Tracy Draco
Madeleine Swann
Wai Lin Vesper
Lynd
Xenia Onatopp
Anya Amasova
Nomi
Fiona Volpe
Tiffany Case
Jinx
Kara Milovy
Pussy Galore Paloma
Be the first to
post a comment
.